Has anyone thought of uses/possible buyers for the old Journal Building?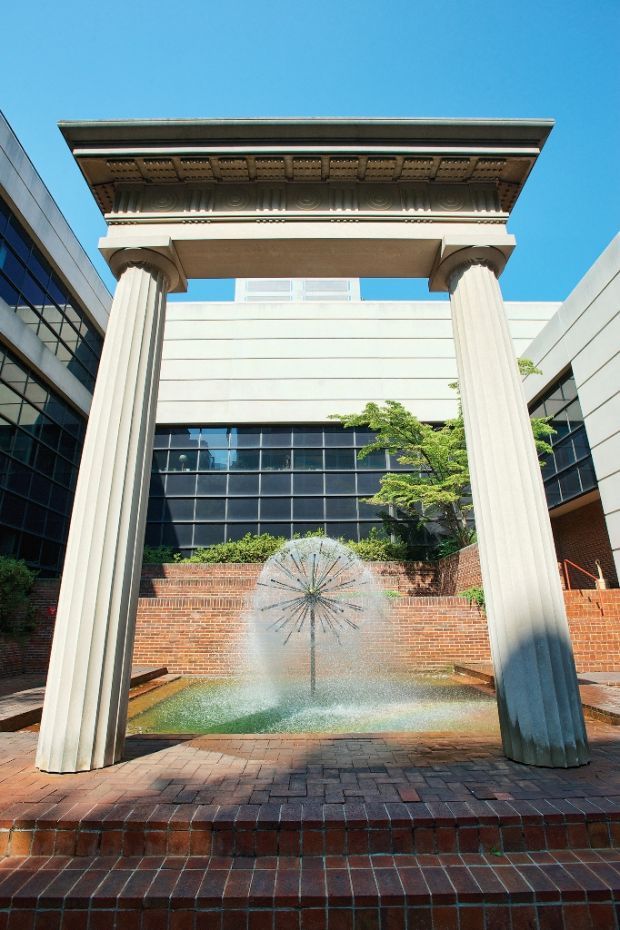 Credit:
Winston-Salem Monthly - Journalnow
This fountain is actually one of just a few around the world like it. I've seen at least three of them. I think one was in NYC and I remember thinking, Winston-Salem has one of those! I remember reading about it when seeing one in another country. I wish I could remember all of the details on it? The link above also talks about it.
Winston-Salem Monthly wrote:
It's modeled after a similar water spout in Italy and said to be one of the only dandelion-shaped fountains in the world.
The Ideas:
An earlier idea I submitted to this forum was using the Journal Building as an expansion of the convention center, with a small boutique hotel in the old Independence Hall Building and meeting space in the remaining parts of the building. The city and Noble Investment Group could partner on this project. This could be a cheap expansion of the convention center, allowing it to keep-up and host more small to maybe medium events. The hotel should also include a street-level restaurant, maybe with a nice view of the fountain?
Some other ideas: What about WXII News-channel 12 or ABC 45 News (invest in local news again?)? Downtown Newsrooms are awesome and as several other examples in the state show, you don't have to give-up your existing building. As a Winston-Salem Newsroom, WGHP or WFMY could also consider it? It could be a way for WFMY to establish itself as a regional news source and advertise itself as a part of Winston-Salem. They would operate two newsrooms (one in downtown Winston-Salem and one in their city) and maybe a local sales team in both buildings? They could save money by using free talent from UNCSA, to help them gain experience. WFMY likely has the most to gain from this? Fox 8 could also use their partnership with the Journal to maybe seek this space as their Winston-Salem newsroom? I think the Journal Building has the space for a studio you can look into from the street and space for news operations. It also has space for the trucks (I've seen Fox 8 trucks parked there in the past). It could have a small restaurant/cafe with a store (T-shirts and merchandise from both the news and TV shows) and the history of the TV station and maybe the network, along with tours. Also include constant international news updates from the network and maybe the local channel? They can also advertise TV shows. The Independence Hall Building could be sold to an apartment developer and converted to residential, along with the former 1941 WSJS Building.
What about as a home to the New Winston Museum or maybe an art museum... or maybe both? It could still incorporate a hotel (still daydreaming about 21C Museum Hotels). Winston-Salem should seriously begin working on bringing an art museum to downtown! If only SECCA or Reynolda House (Wake Forest University) could buy this building and convert it to a world class art gallery. It's one of the things needed to complete downtown, at least in my opinion. And a location behind the Stevens Center is really good! The New Winston Museum could really benefit from having larger spaces to maybe include some bigger items from the city's history for permanent display?
What about the National Black Theatre Hall of Fame? This location can include performance spaces and large exhibits, as well as the hotel in the Independence Hall Building. I know it appears as if they favor the building on Fourth Street, but this building is so big and likely at a great price, they can do something really awesome here and not just be a museum, but a performance space that attracts top talent every week! I'm thinking speakers, workshops, and performance space! Another venue for both NBTF and RiverRun! I would also like to see a wing for Maya Angelou in the Hall of Fame, with the items in Wake Forest University's collection on display there. With performance space, educational space, the Angelou museum, and maybe a hotel included, this could be a major attraction with really good attendance numbers? I'm also thinking about the top talent that would like to perform there too!
What are some other good ideas for this massive space?